We've all been there, standing in front of our outdated bathroom wondering how to tackle the renovation project. To be honest, it's indeed a tough challenge, especially if it's your first time. Of course, you won't be doing everything by yourself, but even figuring out what you want, what needs changing and how to bring your vision to life is a project by itself. 
The best way to go about it is to understand that bathrooms can be much more than mundane rooms where you just grab a quick shower or use the toilet. If you plan carefully, you can turn your bathroom into your favourite place where you can relax after a long day, throw a concert and even set up a romantic date. Those who are familiar with the challenges of small bathrooms may already be thinking, "Nah this article isn't about me. How can I make a small bathroom work?". But don't worry, these tips and tricks work for all bathrooms, no matter how big or small. 
Install Stylish Bathroom Vanity Cabinets 
When it comes to making the most of the space in a small bathroom (or any bathroom, that is), cabinetry immediately comes to mind. And bathroom cabinets have changed a lot throughout the years. In the past, these were large pieces of unwieldy bathroom furniture used to fill in the space. Nowadays, the modern bathroom vanity cabinets on the market are compact, stylish, and not to mention practical. They don't take up as much space though still offer plenty of storage room to keep everything in your bathroom neatly organised. 
Before you head out looking for a new bath vanity for sale, there're a few "boring" things you need to consider such as size, plumbing and materials. 
Your bathroom vanity should allow you to utilise your space, not take up your whole bathroom, so be careful not to get ahead of yourself. It's easy to fall in love with a large, luxurious bath vanity, but if you don't have enough space, this piece of bulky furniture will soon become your worst nightmare. Speaking of nightmares, if you choose a vanity that doesn't go along with your idea, you're looking at a costly and lengthy repiping process. With that being said, you're now ready to explore your style and colour options. 
According to the latest design trends, wall-hung bathroom furniture that appears to be flowing is an excellent way to bring your bathroom design up to date. These bath vanity cabinets appear smaller, create the illusion of depth and save that much-needed floor space which makes them perfect if there's limited room. A bath vanity that features a sleek LED-backlit mirror is also a great choice if you want to modernise your bathroom even more.  
To add a timeless appeal to your traditional bathroom go for classical vanity cabinets that exude sophistication and elegance. Regarding the colour, stick to neutrals since they never go out of style. White, ebony, grey and black go with virtually any interior design, so you won't have to buy new cabinets if you decide to retouch your bathroom in the near future.  
Replace Old Fixtures and Fittings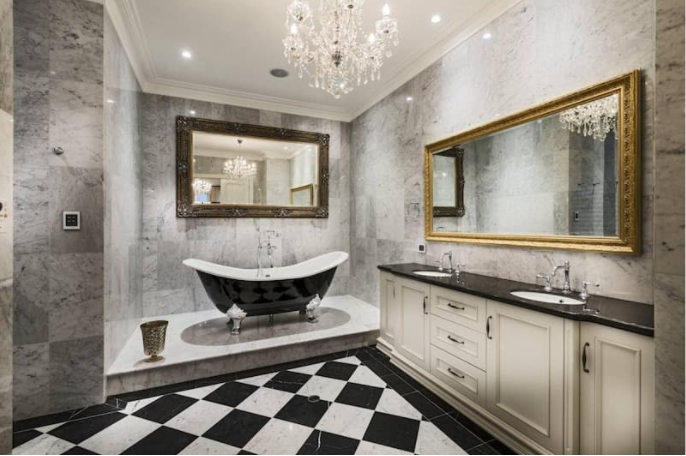 Long gone are the days when bathroom fixtures and fittings served a solely utilitarian purpose. Nowadays, there're stunning basin tap mixers, shower units, bathtubs and toilet suites that double as decorations. If you're thinking how something as a toilet suite can be stunning, you should have a look at the sleek rimless toilet seat designs that have changed the "toilet game" forever. 
Once you've figured out the colour scheme and the style you're going for be it contemporary, industrial, traditional or anything in between, you're ready to go shopping for new bathroom fixtures and fittings. In the past, all-white bathrooms with polished chrome fixtures were the hottest trend, but today your options are literally endless. With a plethora of finishes to choose from ranging from antique bronze all the way to rose gold and matte black, you're bound to find something to bring your bathroom vision to life. 
Regarding your bathtub, feel free to use it as an opportunity to create a bold focal point that'll grab your attention every time you're using your washroom. You can go for an elegant clawfoot bathtub in black to bring some glamour into your bathroom or opt for an "overflow" bathroom design to enjoy your own infinity pool from the comfort of your own home. Working with a smaller space, but still want to enjoy a luxurious tub? Opt for a corner bathtub with air jets to turn your bathroom into your personal spa. 
Install New Flooring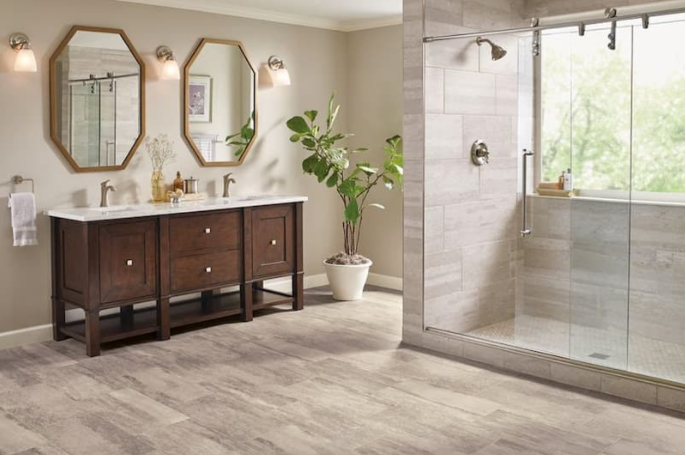 Don't be afraid to give your bathroom floors a makeover. Yes, it may seem like a daunting process, but it's worth the effort. A fresh flooring solution can single handedly elevate your whole bathroom design. And the best part is, you don't have to go through either the difficulties of tile installation or the cost of hardwood floors. Luckily, these modern times we're living in are all about simplicity and affordability. Ladies and gents, a round of applause for vinyl flooring. 
Vinyl is a popular bathroom flooring solution for numerous reasons. You can choose from a variety of gorgeous designs that mimic the effect of wood, marble, ceramic tile etc. Not only that vinyl floors look great, but they also feel great underfoot. They're shock-absorbing and warmer than other types of bathroom flooring, so if feeling cosy is one of your priorities, vinyl flooring is an excellent choice. 
Jazz Up the Walls 
Think of your bathroom walls as a blank canvas that begs to be filled with your awesome ideas. Here you're faced with three options: tiles, paint or wallpaper. Your choice depends on your budget, the effort you're planning to put in, and of course your style preference. 
When it comes to tiles, they're both the most expensive and most complicated to install. However, they're a durable solution that will pay off in the long run. If you're not planning on redoing your bathroom every few years, then tiles are a good choice. It's also worth mentioning that although there are tons of tile designs to choose from, your options are still limited unlike with paint. 
Choosing paint as a bathroom wall solution unlocks countless possibilities. You can mix, match and pair a variety of colours to create a custom wall solution that'll uplift your bathroom design. However, you should know that paint is susceptible to mould, scratches and peeling, so you're going to need to retouch it quite frequently. 
That leaves us with the last option, bathroom wallpapers. An affordable, stylish and durable solution that also offers a range of ways to get creative. Bathroom wallpapers are specially designed to withstand the high-moisture environment and can last up to 10 years if installed and maintained properly. Just like paint, wallpapers come in all colours and shades you can think of, plus you can choose from a plethora of stunning patterns. 
Hang Fancy Lighting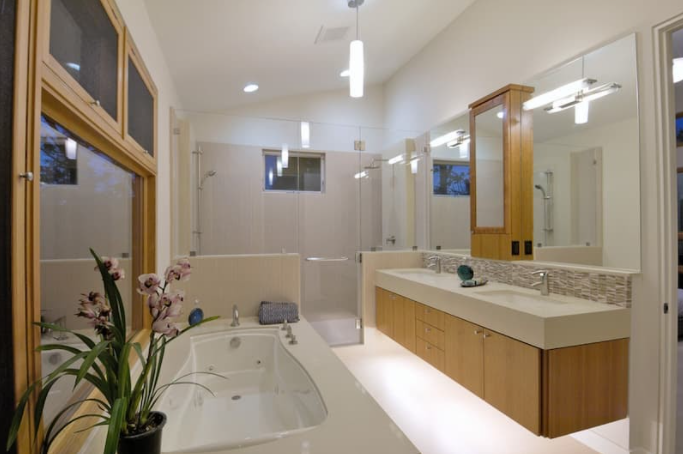 After you're done with all the "hard" steps, now it's time to shine a bright light on your masterpiece. Light plays a crucial role in how your bathroom looks and feels. It can make the space seem larger than it actually is, influence the ambience, highlight your favourite design features, etc. The best way to light up your bathroom is to choose several sources of illumination instead of a single pendant fixture that casts a pool of light below it. 
Think LED downlights, sconces, backlit cabinetry and mirrors with LED strip lights. That way, you'll brighten up the whole space and make it seem more open and airy, something that you definitely want in a bathroom. If you're planning on using your bathroom as a relaxation space, consider adding a dimmable light switch so you can always set the right mood. 
Add Your Personal Touch with Decorations
And here comes the interesting part, it's time to make your revamped bathroom more… you. Although when decorating your bathroom you're only limited to your imagination, be careful not to get carried away with too many unnecessary ornaments, statues and whatnots which can make the space feel cluttered. 
If you're a skincare addict and own a bunch of cute little bottles, you can install shelves to proudly display your babies as decorations and keep them close at hand. You can also roll some fluffy bathroom towels to add a spa-like vibe to your bathroom. Scented candles are another great bathroom décor idea that can help you bring the spa-style inside. 
Have a green thumb? Add greenery to brighten up the space. Choose an indoor house plant that thrives well in high humidity environments such as peace lily, bamboo or aloe vera. Having a living plant or two in the bathroom will improve the air quality, and make it feel more pleasant.