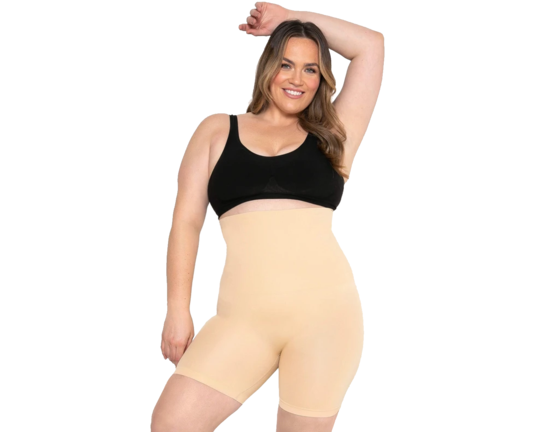 If you've recently undergone some form of bariatric surgery in an effort to conquer your weight loss goals, you may find yourself left with some loose skin that will can feel uncomfortable when you are working, and exercising. In the meantime, there are ways you can shape that loose skin and your body following weight loss surgery, and this can be achieved with shapewear.
In this article, you'll learn more about shapewear for both women and men, what it is and how to choose the right weight loss shapewear for you.
What Is Shapewear?
Shapewear provides a flexible and snug fit, crafted from material that allows your skin to breathe. Comfortable enough to wear every day, either socially or while exercising, shapewear has been fashioned to suit all body types and keep your figure looking "in shape" and "smooth"while you wear it. If your body has some zones where it's hard to shed those pounds, then shapewear smooths out those zones and makes them look smoother and more attractive. Most importantly, shapewear offers you support and confidence following weight loss surgery.
After Surgery Women's Shapewear
The main market for shapewear is for women, either following a surgical procedure to lose weight or just in general, to help enhance a woman's natural shape and keep those less desirable lumps in place and smooth them out.
It can be tempting for women to choose a size of shapewear that's extra tight, in a bid to really make their figure more shapely, but you have to consider the comfort factor, as well as the ability to freely move about and function. While shapewear will naturally be a snug fit, it shouldn't be so small that it feels like it's strangling you. After surgery women's shapewear comes in a range of sizes to suit all sizes and body shapes, so there will be a size that suits you perfectly.
There are also different colours, from light to black to nude, depending on what clothing you're wearing. Some examples of women's shapewear you can choose from include:
Waist trainer corset

High waist tummy control shorts or briefs

High waisted seamless shorts with silicon control

Compression shapewear underwear

Top shapewear with clasps

High waisted shaper shorts for tummy and thighs

Shapewear pants with compression hooks

Seamless bodysuit shapewear

Steel bone corset waist trainer

Unisex knee-high compression sports socks

And more…
Don't forget that men wear shapewear as well, whether following a weight loss surgical procedure, for added support while exercising, or simply to enhance the male form. Some examples of male shapewear are:
Slimming shorts shapewear

Male waist trainer shapewear

The compression shirt or singlet top

Compression zipper vest

Knee-high compression socks, with or without zipper

And others.
Recommended Shapewear Following Bariatric Weight Loss Surgery
Following a weight loss surgical procedure such as gastric bypass surgery, you could either have loose, excess skin removed, or you can wear various compression garments to shape your figure and basically hold everything in place.
Shapewear following surgery not only helps with aesthetics but can also offer back support and improve your posture following an operation. Holding that excess skin in place also makes you feel more comfortable as you go about your daily life. Shapewear can also help stimulate blood flow to affected areas, speeding up recovery as well as the natural reduction of loose and excess skin.
You will work out which shapewear suits your needs the best – but  might consider a waist trainer corset and compression shapewear underwear. For men, you might wear a waist shape trainer or compression shirt.
In Conclusion
Weight loss shapewear provides many benefits for both women and men, either following a form of weight loss surgery or just for everyday wear. A better figure can be as simple as wearing the right shapewear for you.