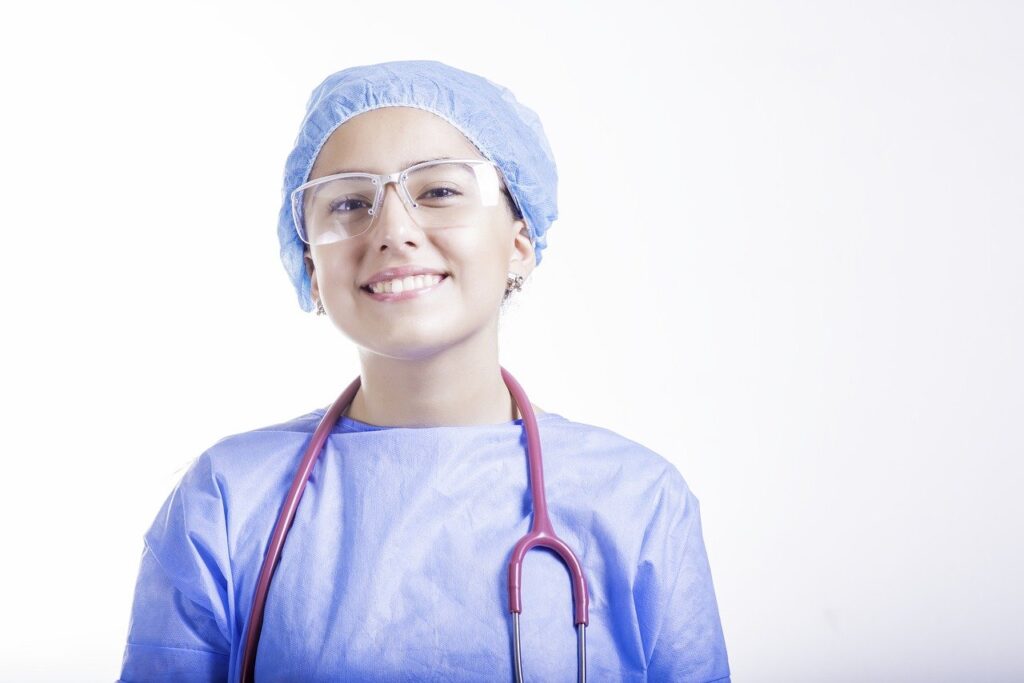 Are you currently a registered nurse but would like to broaden your career prospects and increase both your job security and your salary?
If yes, then you may want to consider studying to become a Family Nurse Practitioner (FNP). 
Whether you have considered this career path before or you are looking into this type of advanced nursing for the first time, you may be surprised at just how many advantages there are to becoming an FNP in the near future. 
From the opportunity to give something back to your local community, to increasing your salary potential, to enjoying a leadership role, keep reading to discover the top eleven reasons why you should pursue a career as a Family Nurse Practitioner. 
Plus, find out how you can do it!
What is a Family Nurse Practitioner (FNP)?
If you are not entirely sure about what is the role of a Family Nurse Practitioner, then you are about to find out. An FNP is a registered nurse that is also qualified in specialized education and clinical training within family practice. 
Family Nurse Practitioners are specifically trained to work with both children and adults, most often in a clinical setting or family practice. Although many FNPs choose to work in underprivileged and underserved communities where they can make a real difference, you can choose to work wherever you want once you are qualified. 
Depending on the state that you live in, you may be required to work under a physician or you may be able to run your own clinic without supervision. 
The role of a Family Nurse Practitioner is predominantly to monitor the health and wellness of the people within the communities that they serve. However, you will also be required to treat minor acute illnesses. 
One of the key elements of this particular nursing role is to be able to understand the community that you serve and the dominant problems that the residents face in terms of their health and overall wellbeing. 
To be a successful FNP, you should be:
Empathetic 

Enthusiastic 

Tenacious 

Creative 

Optimistic 

Attentive 
What are the main roles and duties of an FNP?
The role of a Family Nurse Practitioner is a varied and exciting one with typical duties including:
Performing medical examinations 

Examining medical history 

Developing treatment plans 

Diagnosing illnesses 

Running diagnostic tests 

Educating patients on overall good health and wellbeing 

Discussing preventative treatments with patients

Performing minor procedures 

Maintaining patient records 

Prescribing medication 

Working alongside physicians 

Making referrals

Admitting patients to hospital when necessary 

Acting as a primary care point of contact for patients 
How to become a Family Nurse Practitioner? 
Before discussing why you should become an FNP, let's first look into how you can become one. 
The first step to becoming a Family Nurse Practitioner is obtaining a BSN, a Bachelor of Science in Nursing degree. This takes most full-time students around four years to complete. 
Once you have this qualification, if you didn't have it already, you can now move on to the next stage of your further education journey, undertaking a DNP degree program with a specialty in family-primary care. 
A DNP, Doctor of Nursing Practice, is an advanced nursing degree program that focuses on evidence-based practice, nursing, and organizational leadership. Within your DNP, you can choose to focus on whatever area of nurse practitioner that interests you the most, in this case: becoming a Family Nurse Practitioner. 
The advantages of obtaining a DNP degree include:
A wider spectrum of career opportunities

A higher earning potential 

Increased job security 

The opportunity to implement change in the healthcare industry 

Enhanced knowledge 

More respect from your peers

Enhanced credibility 
If you are worried about undertaking a degree of this magnitude whilst still working as an RN, you should be aware that there are many online DNP programs that offer flexibility in terms of study. These are just as recognized as traditional on-campus degrees. 
Why should I become a Family Nurse Practitioner? 
Whether you love being a registered nurse but want to be able to have more of an impact on your local community or you want to progress in your career due to worries over job security, there are so many reasons why becoming an FNP can enhance your professional life within the healthcare industry. 
1. A more varied working environment 
If you want a job where you are able to work in different environments if you wish to, then becoming an FNP will allow you to do this. Although you can choose just to work in an individual clinic, you can also expect to be privy to working in a wide range of other healthcare settings, including hospitals, schools, private practices, and urgent care centers. 
Furthermore, as well as having a varied working environment, you will also have a diverse working day, with typical duties including assessing patients, diagnosing them, ordering tests, and admitting patients to hospital when necessary. 
2. Enhanced job prospects 
The demand for primary care in the United States is soaring due to the unprecedented growth and aging of the population. In fact, by 2032, the population is set to increase by more than 10%. 
What does this mean for FNPs? To put it simply, this crucial role will be more in demand than ever before. Therefore, if you are looking for a job within the healthcare sector that guarantees demand in the upcoming years, you could do a lot worse than studying a DNP and becoming a Family Nurse Practitioner. 
3. Better earning potential 
The average wage for a registered nurse in the United States is $80,080, with some RN positions earning as little as $57,550. However, if you qualify to become an FNP, you can expect to earn $111,840 per year, and this has the potential to increase as you become more experienced. 
Furthermore, you can expect that the hard-to-fill positions within this area of primary patient care will include lucrative benefits and bonus packages. 
Doesn't this make the initial cost of a DNP degree program seem more than worth it? 
4. The opportunity to be autonomous
If you are fed up with working for someone else and are more than ready to be your own boss, you should be aware that 22 states allow Family Nurse Practitioners to work completely independently. Hopefully, this will soon increase to a nationwide practice as the demand for FNPs continues to increase, and more healthcare trusts see the benefit of increased autonomy for coping with the national shortage of both physicians and primary caregivers. 
5. Increased knowledge 
One of the main reasons why nurses choose to undertake a DNP degree to become an FNP is to increase the depth and breadth of their knowledge. As this type of DNP degree requires students to learn how to care for patients from childhood and into old age, you expect to undertake advanced training that will allow you to fully fulfill your primary care responsibilities. 
Furthermore, you can expect to learn:
How to care for the health needs of unique populations and cultures

Advanced leadership skills

New technologies and innovative treatments 

How to promote healthcare that prioritizes your patients 
6. Improved job satisfaction 
Although the vast majority of registered nurses in the United States have stated that they are satisfied with their jobs, when asked, between 12-24% said that if they had the chance, they would not choose nursing as a career again. Possibly this is because of the long shifts involved in being an RN, or maybe it is due to the limitations in terms of pay. However, more likely, this stems from feeling underappreciated. 
However, in terms of job satisfaction, FNPs are coming out on top. In fact, a recent poll revealed that FNPs are highly satisfied with their jobs, with a job satisfaction rating of 4.08 out of 5. 
7. The chance to undertake leadership roles 
As mentioned above, becoming an FNP provides you with the opportunity to become more autonomous, but it also allows you to take on more leadership-based roles. For example, you could become more advanced in your field by conducting a medical research study or by developing patient education programs. Once you have the level of expertise, the sky really is the limit in regard to what you can achieve with a DNP – FNP degree. 
8. You can study while you work 
If you are worried about how you can study to become a Family Nurse Practitioner whilst still working as a registered nurse, you will be pleased to know that there are online DNP degree programs that offer 100% flexibility in terms of when and where you can complete your hours of study. 
Further benefits of studying for a DNP – FNP online include:
You can complete your degree on your own time

It can be more cost-effective than on-campus degrees

You are provided with the same high-quality courses

You can still enjoy access to the faculty 

You can continue to work as you study 

Increased autonomy 

You can continue to care for your family obligations 

Unparalleled choice 
9. You can maintain connections with patients
If the nursing element that you love the most is being hands-on when it comes to patient care, you should know that as a Family Nurse Practitioner, you will still be very much at the forefront of the patient process. Unlike many other higher-level positions within the nursing industry, as an FNP, you will be working with the same patients within your chosen community on a daily basis, allowing you to build meaningful connections and really make a difference in their lives. 
10. You can enjoy the same privileges as a physician 
Although you may find that some patients prefer to see a qualified physician, once you are a qualified Family Nurse Practitioner, you will have the necessary skills and qualifications to be able to assess, diagnose, treat, refer and prescribe medication to patients in the same way that a physician can. 
In fact, due to the lack of qualified physicians, your abilities should be able to help reduce patient waiting times and help healthcare facilities offer their patients a more effective and reliable level of care. 
11. You will be intellectually challenged 
If you love to be challenged professionally and are not afraid to be pushed outside your comfort zone, then studying for a DNP degree to become an FNP is most definitely for you. Offering the chance to undergo specific coursework and extensive clinical practice hours, you will study topics such as:
Pharmacotherapeutics 

Diagnostic reasoning

Leadership in practice 
Specific nurse practitioner fields of study include:
Acute care

Adult health 

Family health

Gerontology 

Neonatal health 

Women's health 

Pediatrics 

Mental health 
Five interesting facts you should know about FNPs
Almost 67% of Nurse Practitioners are Family Nurse Practitioners 

More than 41,000 American Association of Nurse Practitioners are qualified FNPs

On average, a full-time FNP will see 18 patients a day 

The top three clinical areas of interest for FNPs are primary care, urgent care, and internal medicine

In terms of job satisfaction, being an NP ranks the 4

th

best job in the country 
Conclusion 
With the opportunity to perform many of the same responsibilities as a doctor but also being able to work intimately with your patients and help care for their long term health and overall wellbeing, choosing to study to become a Family Nurse Practitioner might just be the best decision you ever make.
Furthermore, as a Family Nurse Practitioner, you will enjoy more freedom than being a registered nurse with the ability to be able to prescribe medications, analyze patient history, and create comprehensive treatment plans. 
Not to mention the fact that you will enjoy a higher salary, increased job security, and more respect and credibility amongst your peers. 
So, what are you waiting for? Make today the day that you start looking into how you are going to achieve your dreams and train to become a Family Nurse Practitioner.