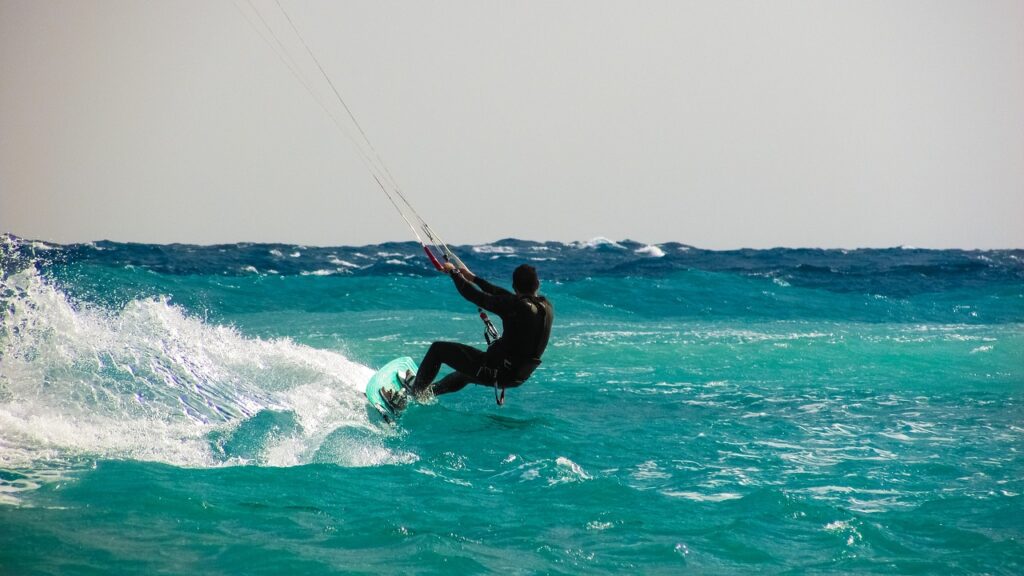 If you are like most of the world's population, the closest you've probably come to a death-defying experience, like climbing the side of a cliff without a harness, diving under a cave without oxygen, is a video game or TV show. 
Feel the need for that kind of rush? You can start your extreme sports journey by adding small amounts of adrenaline-packed activities and learning extreme skills over time.
Everybody who is into extreme sports started somewhere. Here's where to begin with your extreme sports journey:
Research your extreme sport
Extreme sports fall into several different categories. Some take years of training to give you the skills and insight necessary to become a beginner. Some activities you can start with little practice and much courage.
If you are ready to find your sport, make sure you research what kind of mindset, gear, and training you need to get started.
Some examples of common extreme sports include:
Freediving
Big wave surfing
Base jumping
Waterfall kayaking
Extreme pogo
Caving
Free climbing
Bull riding
Heli-skiing
Creeking
Highlining
Abseiling
Ice climbing – got the idea now?
Once you've decided which extreme sport(s) you would like to focus on first, it's time to research the best and most authentic sources of information. There are often dedicated groups within the extreme sports community that can hook you up. Find them, and start learning from those who have succeeded before you. 
Here are some of the extreme sports we recommend to get you started.
Go bungee jumping
In comparison to the activities listed, bungee jumping is a walk in the park. Find a local jumping center and read up about the activity. If you're still intrigued, then it's time to sign up.
You'll have to weigh yourself to make sure the business selects the right bungee for you. Too little slack and you'll be rocketing in every which direction; too much slack, and well, splat.
The experience takes less than two minutes, and the freefall usually lasts less than five seconds -unless you're at one of the largest in the world, then expect 10 seconds of hell.
Flinging yourself off a perfectly good bridge or platform is a great way to simultaneously find out if extreme sports and adrenaline rushes are right for you.
Go skydiving
The most recent studies estimate that both bungee jumping and skydiving have a fatality rate of just 1/500,000. You're more likely to perish from a bee sting.
Many places around the country allow you to jump out of an airplane mid-flight. Don't worry; you won't be able to jump out yourself and will have a trained instructor strapped to your back.
Feel the whip of the wind rush past you as you freefall for over a minute. Watch the horizon line and the landscape below you change by the second. All you will have to do is enjoy the ride; your instructor will pull the chute when it's time.
Your feet hit down. Do you immediately want to go again, or was that enough for one lifetime?
Go Windsurfing
The reason this is a great sport for beginners is that it can be both an extreme sport and a leisurely pass time. You can start by cruising around a bay before taking it to the extreme with high-winds and big waves. 
The best place to start with this sport is with lessons at your local wind-surfing school. If you don't live near a windsurfing location, then why not give it a go on holiday. Either way, make sure there's an instructor who can guide the way.
The other good thing about this sport is that it doesn't have some of the upfront costs that the other sports have. You can use the school's equipment until you feel ready to invest in some more advance windsurfing gear. 
Start training straight away
You've decided which extreme sport you want to pursue, but to succeed you have to be in excellent physical condition – which is true with any sport. Now is a great time to start working out of a home gym, a fitness center, or consult a health and wellness expert on becoming the fittest version of yourself.
On top of general cardio and weight training, start focusing on activities directly connected to the extreme sport of your choice.
If you want to start cave diving, make sure you are in the pool four to five times a week. If climbing is your new passion, it's time to focus on lean muscle mass at the gym.
Talk to your community of enthusiasts and get the inside scoop on how to best train for your chosen sport. 
Get the right gear
Don't cut corners on athletic gear because safety and protective equipment could potentially save your life.
If a device is necessary for the extreme sport of your choosing, it's best to spend a few extra quid to have top of the line gear. It's your life we're talking about here.
Go for it!
You've made it. You've felt the adrenaline rush, you've done the research and have embedded yourself into a community of like-minded athletes, you've trained your body for the rigorous activity you are about to embrace. You've got your gear loaded up in the back of your car, van, or truck.
Now all that's left is to go for it! Welcome to the world of extreme sports.