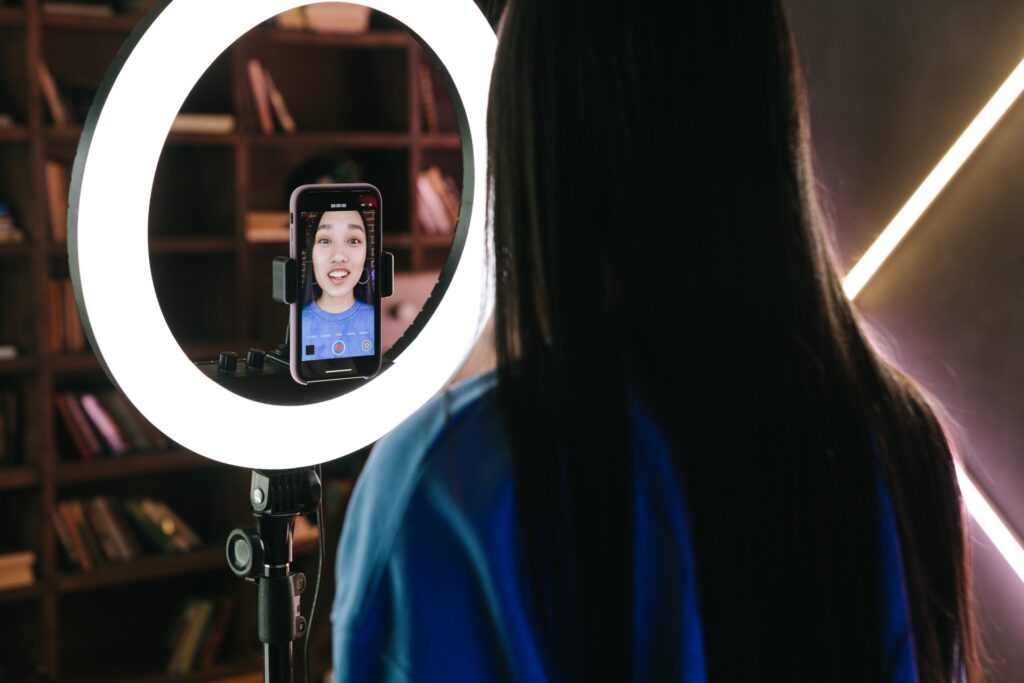 The selfies of your favorite social media influencer look amazing solely not because of filters. A selfie ring light greatly helps, too. 
As its name suggests, a selfie ring light provides light for selfies. But is it limited to taking selfies? Are there other things it can do?
In this article, we'll talk about what a selfie ring light is and what it can do for you. 
What Is a Selfie Ring Light?
A selfie ring light is a type of ring light that directly shines soft light on a subject. It minimizes shadows and makes the subjects look illuminated. In this case, the subject is you.
Plus, a ring light is what it sounds like: a strip of light built into a ring-like apparatus. This wonderful tool is built for giving you flattering light without the harsh lines and distracting reflections. In short, it is perfect for making you look great in front of a camera. 
When you take a photo using a ring light, you can place your phone or digital camera in the center of the ring. This makes your selfie properly lit. 
In other light sources, some parts of the subject may be brightly lit while others remain in harsh shadow. In contrast, a selfie ring light with stand provides uniform light. 
Nowadays, consumers can choose from two types of selfie ring lights: fluorescent and LED.
Fluorescent light with stand produces bright white light. However, many selfie ring lights use LEDs. Interestingly, LED ring lights feature softer lighting than fluorescent ring lights.
In addition, users can easily adjust the intensity of LED selfie ring lights. They can do this using buttons on the ring light or a smartphone app. 
Many users prefer adjustable LED ring lights because they can control the color and intensity. These include social media influencers and professional photographers.
What Do Selfie Ring Lights Do?
From taking amazing selfies to producing videos, selfie rings lights can do a lot of things. 
1. Taking Amazing Selfies
A selfie ring light is a selfie lover's best friend. Contrary to popular belief, lighting is the most crucial aspect of a selfie. Without proper lighting, your selfies won't be in their best state.
Think about this: would you rather view a well-lit photo or an overly bright, filtered photo?
Plus, a selfie ring light makes your photos look natural. It evenly distributes light all over your face. This also helps you explore all of your attractive angles.
2. Taking Portraits
A ring light with stand is not just for a selfie lover. It can be used by a professional photographer as well.
Since ring lights are lightweight and versatile, many professional photographers own ring lights. In fact, professional photographers use selfie ring lights for many reasons. 
For one, professional photographers use ring lights to take portraits. Ring lights evenly distribute light on a subject, so they are perfect for professional and high-editorial portraits. 
3. Enhancing Video Calls 
If you have been using Zoom for more than a year, it's time to get yourself a ring light with stand.
You don't have to be a famous streamer or TikTok star to see that ring lights make video calls a lot better. Plus, you must consider getting a ring light with stand if you work from home.
Not only do they enhance your video calls, they help boost your confidence as well. When you see yourself looking great on camera, you become more confident during virtual meetings. 
4. Creating Effects
Selfie ring lights are also well-known for creating lighting effects. Those photos and videos you see on Instagram and TikTok were most likely taken with ring lights. 
To begin with, you can easily switch the regular white light to a warmer tone. You can also apply colored gels on the ring light. This creates different color washes that flow through many directions. 
In addition, you can easily switch the ring light on and off to create thriller and horror-movie effects. Sounds amazing, right?
5. Producing Videos 
From makeup artists to food vloggers, selfie ring lights have been long used by content creators. 
Having enough lighting is crucial to producing amazing videos. So, vloggers who use ring lights usually look great on camera. 
Plus, selfie ring lights come in many sizes and setups. From DSLR-friendly setups to a selfie ring light with stand, ring lights are a miracle worker for video production. 
Conclusion
In this digital age, showcasing beautiful photos online is the norm. Whether you are an amateur photographer, a professional one, or just a selfie lover, owning a ring light is a must. 
The selfie ring light has taken the world by storm. While it's slightly dramatic to claim that they transform your photos and videos, why not get one and see for yourself?