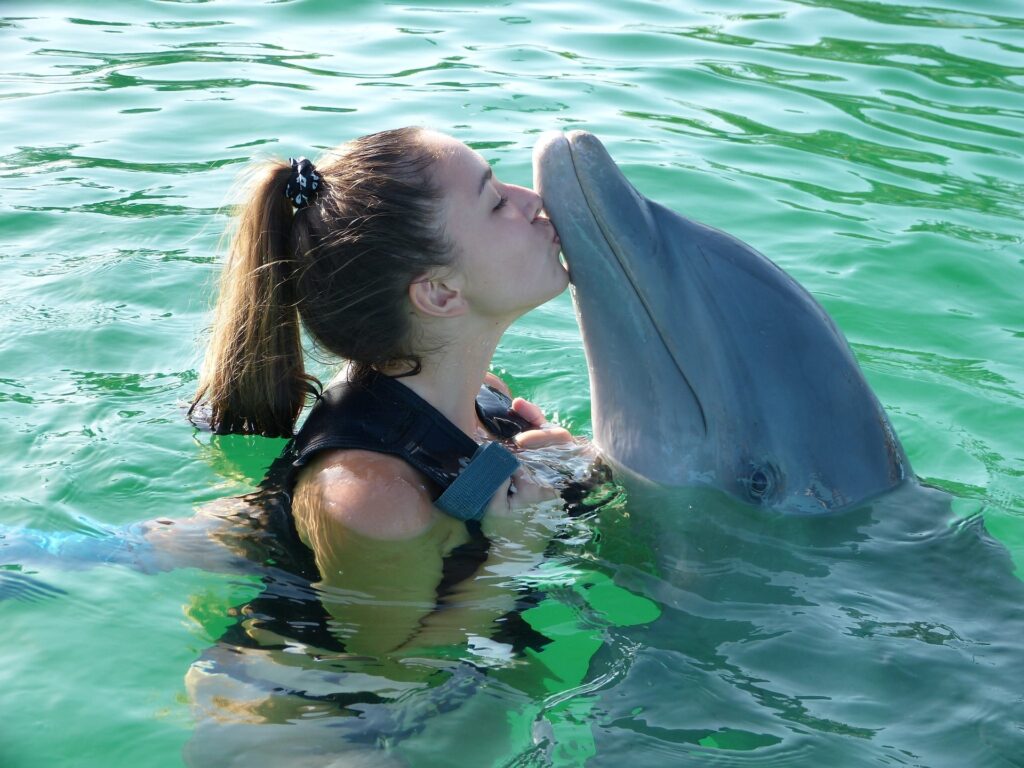 You may never get a chance to swim with dolphins, so if you do, the cost should not be a factor in planning this trip. However, you want to get the most out of it and spend your money wisely.
Dolphin Swim Vacation in Cancun, Riviera Maya, and Los Cabos would be a great joy. Several wild dolphins swim companies throughout the Mayan Riviera have been working with these wild dolphins for many years. The dolphins are very accustomed to being around humans, and they don't associate people with food as they would if you went to the Bahamas or the Solomon Islands. They know precisely what their job is, and it's extraordinary to see them still wild, but at the same time, their relationship with the humans is very close who work with them each day. There is a complete overview of the prices to swim with dolphins in Mexico in this post. 
This is a complete guide on how much it costs to swim with dolphins in Mexico and Everything you need to help you find the best prices to swim with a dolphin in Mexico.
Prices to Swim with Dolphin in Mexico
Prices of private swims with dolphins will depend on several factors, including the area where you are, what kind of program you want to do, and whether it is a single or group program. Prices also depend on factors like seller and region. Some packages prices of different areas are given.
Isla Mujeres Dolphin Swim
Its package costs:
For Adults: USD 159.00 (USD 89.00 special price)
For Children: USD 99.00 (USD 89.00 special price)
Its packages' cost varies according to the number of activities you want to do, but mostly it cost:
For one person: USD 424
For two persons: USD 169
For 1-4 people's interactions: USD 126-135
For 1-8 people's interactions: USD 126
For 1-10 people's interactions: USD 84 
For adults: $159USD $ 119.25USD
For kids: $89USD $ 66.75USD
In Los Cabos swim with dolphins is according to whole trip packages.
Seven days trip for:
One traveller cost: $2,397 
For couple cost: $4,305
For a Family of 4 costs: $8,071
 Its packages cost from 74- 119 USD depending upon your number of activities.
Tips for Saving Money On Your Dolphin Swimming Vacation
Understand your travel options

Book early to save money

Choose your geographical location wisely

Avoid holidays

Compare deals

Conserve your strength for snorkeling

Fit snorkel gear around your face mask

Pack sunscreen

look for dolphin swim discounts
Difference between Swimming With Dolphins In Mexico And Other Places
Mexico has the distinction of being the top country in the world for marine wildlife conservation. Mexico is known for its magnificent corals, gorgeous water, and spectacular wildlife. Like with other tourists, most swimmers go to Cancun, Riviera Maya, Tulum, Playa del Carmen, and other beaches in Mexico.
Different species of cetaceans have other diets, resulting in a different appearance. By 'dolphin,' I mean any animal of the dolphin family. The kinds of food they eat are also different between the two regions. For example, in Mexico, they eat fish, in Brazil, they eat dolphins, and in Argentina, they eat sea turtles. Regardless of where you swim, it is essential to respect these differences as they could affect which type of animal you interact with while swimming.
It's Time to Take the Next Step in Imagining Your Target Vacation Spot
Mexico is an excellent choice for dolphin-swimming enthusiasts because the dolphins are abundant, and you have ample chances to swim with them. In addition, the government has been putting a lot of effort into protecting dolphins and their environment. And because the Mexican government promotes sustainable tourism activities, many dolphins are swimming among the crystal blue waters of the Tulum Sea. There are many different ways to enjoy dolphins, such as by snorkeling or diving. But if you plan, you can make the most out of your trip.