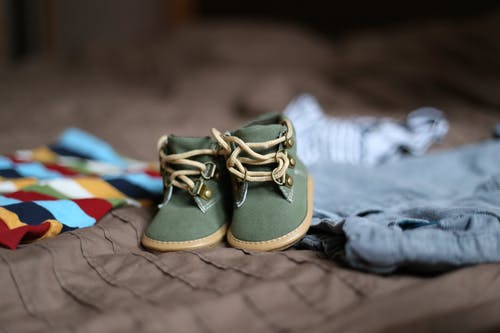 Who does not find teeny tiny sleepers or small jumpsuits cute? From teensy weensy shoes to super-soft baby outfits, every item of baby clothing seems adorable. The excitement and nervousness of becoming a first-time mother while preparing for your baby's arrival are unlike any other feelings in the world. Naturally, mothers want the best for their babies. The preparation starts right after they receive the good news of being pregnant.
Putting together a baby-on-the-way wardrobe is one of the exciting aspects of baby-arrival preparation; however, it can be a daunting task. Moms-to-be often find themselves in a dilemma deciding what to buy and how many items would be sufficient. Too many options in the market make it overwhelming for new moms, but they must not stress over this. 
While keeping comfort, security and age in consideration, new moms can create a perky yet functional wardrobe for their babies. Let's have a look below and read a few tips that will surely help new moms-to-be prepare the perfect wardrobe for their bundle of joy:
1. Prefer Hygiene over Fashion
Pregnant ladies feel a tingling emotion when they see a charming baby outfit and a sudden urge to purchase it. However, they must keep the notion of the baby's wellness in mind. They must realize babies have weak immune systems; therefore, mothers must ensure that their children wear hygienic outfits. Organic clothes are durable, free from chemicals and snug comfortably around babies' bodies. Mom-to-be should opt for organic baby pajamas and tops to keep their children healthy, happy and free from allergies or discomfort. 
2. Consider the Gender
Many couples prefer knowing the gender through ultrasound scans, but some like to keep the element of surprise, especially when it is their first child. While purchasing adorable onesies and cute baby outfits, parents-to-be must keep gender in consideration. Although many baby outfits work for boys and girls, knowing the gender of the baby helps mom-to-be pick dresses for the baby. If they choose not to discover the gender, they must buy unisex outfits. 
3. Opt for Practical Pieces
Many dresses appear appealing on dummies or images, but they are not very practical. Mothers may have to unfasten plenty of buttons, tie belts and bows, which is time-consuming. Some dresses cannot be worn on more than one occasion, and splurging money on such a piece may be a waste of hard-earned bucks. Moms-to-be are generally unfamiliar with the busyness that comes with babies. Thus, they often ignore the functionality and usage of dresses and buy clothes that appear perky. Opting for useable clothing articles which are easy to put on and remove saves them from the unnecessary struggle. 
4. Stock up Bodysuits
Bodysuits are versatile clothing items that are a new baby staple. They give the most adorable look and are sometimes worn underneath another dress. Besides, they are super-soft and easy to put on. Mommies say that they lose count of how many times they need to change their children's dresses in a day. Babies often spit out milk, making their clothes dirty, multiple times a day. Hence, moms-to-be, take note and stock up bodysuits to save yourself from repeatedly shopping for your child. 
5. Choose Play-friendly Clothes 
What do babies do, other than sleeping, playing and looking cute? With time, babies start demonstrating their cheeky side and want to move their hands and feet frequently. Mothers must pick rompers, tops or onesies that allow them to show their gestures and exercise their freedom of moving hands and legs. Play-friendly clothes help children maneuver, which is essential to build their muscles and keep them healthy.  
6. Keep the Season in Consideration
Remember, your babies cannot communicate that they are feeling cold or are sweating. Dressing them in the wrong fabric can cause irritation and illness. As much as winter clothes look stylish and alluring, avoid purchasing them in bulk if you live near the equator. Similarly, invest in more woolen caps and socks when you live in colder regions. Read the labels to make the right selection and ensure that your baby feels cool in summers, and you can layer them up in the chilly weather. 
7. Do not forget a Special-Occasion Baby Outfit
Your babies' outfits must be comfortable and appropriate, but that does not mean that your adorable child cannot look stylish on special occasions.  Keep the comfort and season in consideration, and purchase at least one special occasion outfit that makes your kid steal the attention at ceremonies. Go for the teensy-weensy bow-tie pantsuits, buy flowy frocks with matching-colored sandals, opt for cute prints on tops, and pair them up with tiny denim. 
8. Pick Washable Clothes 
Many mothers make the mistake of spending money on clothes that look nice and pleasant but are not practical. Non-washable fabrics are inappropriate for babies as children are messy and need to change various dresses a day. Ensure that you check the tag and read about washing instructions before purchasing the cute romper or a woolen blanket for your baby. 
9. Comfort Comes First
We understated that mothers feel a temptation to purchase fashionable clothing articles, but they can be uncomfortable. Ensure that you check the fabric and see that they are soft on the baby's skin. Also, notice that the stitching and cuts are not itchy or the outfits do not have motifs or accessories that make children uncomfortable. The onesie may be stylish, and your child might appear adorable in it; if the material is scratchy, skip it.  Keep the moto, comfort over fashion while shopping for your newborn baby. 
Conclusion 
Many women love shopping, but the experience and excitement of shopping for the baby-on-way are unmatched. Moms-to-be receive many suggestions from all corners and feel perplexed while preparing a practical yet stylish wardrobe for their babies. Besides, babies outgrow clothes in what seems like a wink of an eye; therefore, parents must think smartly while baby shopping. However, it does not mean that they cannot create a splendid wardrobe for their children. Keeping the earlier-mentioned points in consideration, you can collect adorable clothing pieces for your precious child.