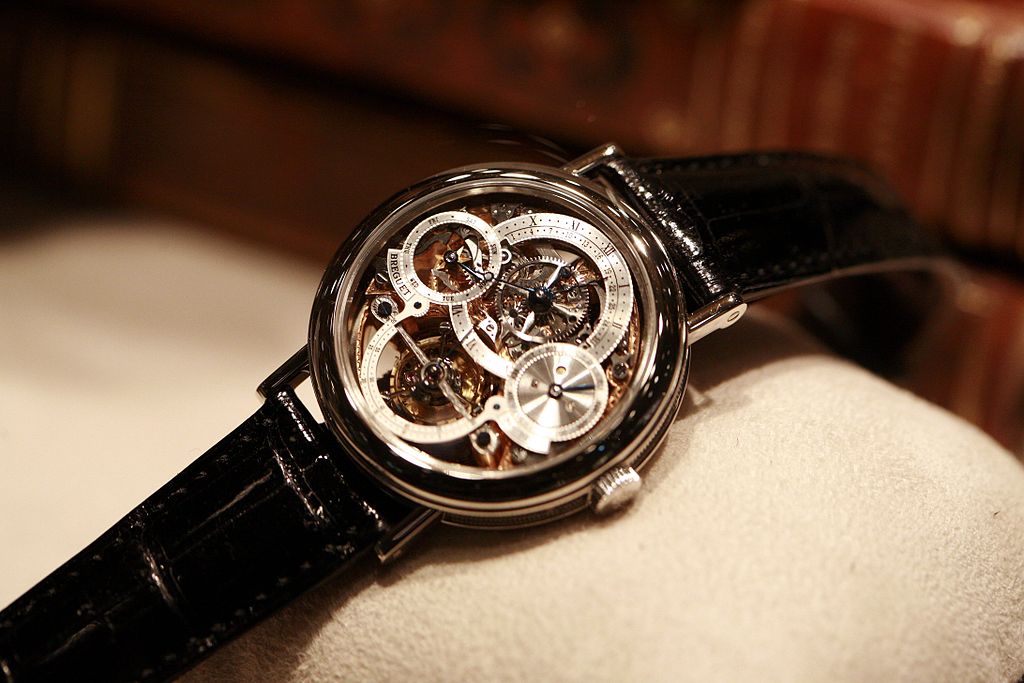 Breguet is one of the oldest watchmakers that are still active up to this day. Since 1775, they have pioneered many technologies related to watchmaking. Some of which are the world's first self-winding watch and tourbillon. It was the founder, Abraham Breguet, who invented those in 1780 and 1801, respectively. 
Over the years, they have produced many notable timepieces. This brand is famous amongst celebrities, politicians, and even royal family members. Some of their well-known patrons include Queen Victoria, Cristiano Ronaldo, and Vladimir Putin.
Because this brand is so iconic, you might have a hard time deciding which watch to buy. They have been in the industry for over 200 years, and they know what people like in a watch. To help you out, here is a list of the 10 best Breguet watches you may want to buy. Let's get started!
1. Type XX – XXI – XXII 3810BR/92/9ZU
Breguet was the first to invent the world's first self-winding timepiece. Thus, there would be no surprise that a self-winding watch has made it into this list. Donned in a Rose Gold bezel, this timepiece screams elegance in its own right. It also has a brown leather strap and three sub-dials, making the watch look even more attractive.
2. Tradition 7057BR/G9/9W6
Breguet is not only known for its self-winding watches. They also have hand-winding timepieces, and one example is the Tradition 7057BR/G9/9W6. The charm of this piece is the skeletonized dial, a unique design than the traditional watch look. If you wear it at an event, you might gather some attention because of its appearance.
3. Marine 5887PT/Y2/9WV
Another unique yet attractive watch from this brand is the Marine 5887PT/Y2/9WV. Combined with silver and blue colors, this watch screams elegance at first glance. It also has a combination of the tourbillon and perpetual calendar. The pattern on the dial resembles ocean waves, as expected for the Marine collection.
4. Classique 5177BB/29/9V6
Next on this list is the simple and clean-looking Classique watch. Its appearance of White Gold casing gives a neat look to the wearer. Combined with a black strap and white dial, there is no doubt that this watch is suitable for every man. It is also easy to handle, perfect if you do not like complicated things. 
5. Heritage 5497PT/12/PB0
If you do not like circle-shaped watches, how about checking out this Heritage watch? This timepiece has a curved rectangular case made with Platinum metal. It also has a tourbillon, and it is a hand-winding watch. Wearing this watch will undoubtedly enhance your outfit of the day if you are planning to go to events.
6. Marine 5517BB/Y2/5ZU
Up next from this list is another timepiece from the Marine collection. What's unique about this watch is that the hour markers consist of Roman Numerals. It is different compared to others that usually consist of Arabic Numerals. Like the other Marine watch in this list, this timepiece has wave patterns in the dial. A date display is also available at the three o'clock position.
7. Type XX – XXI – XXII 3817ST/X2/3ZU
Unusual color combinations but still looks good? That is the Type XX – XXI – XXII watch. Nobody would have thought that Silver, Brown, Grey, and Gold would look together. But Breguet has proven otherwise, and they created this masterpiece. This watch is a self-winding type with a 48-hour power reserve. It also has a water resistance of 100 meters. 
8. Marine 5817ST/92/5V8
Do you prefer a timepiece that you can wear daily? If you want to wear a watch every day for work, this Marine timepiece might suit your preferences. This watch has a date display that would make it easier to check the current day. Its combination of stainless steel and black colors gives an elegant feel to the wearer. The jewels surrounding the dial also adds to the classic style of the watch.
9. Reine de Naples 8918BB/28/964/D00D
For the ladies, you might like this Reine de Naples timepiece. The charm of this timepiece is the fisheye-like effect of the hour markers. Its combination of silver, light blue, and white colors give the watch a refreshing look. Wearing it might look weird at first, but it makes you want to look more into it the more you see this watch. This timepiece is also a self-winding type, and it has a power reserve of 45 hours.
10. High Jewelry GJ29BB8924/5D58
Breguet is also known to make distinctive watches, and it shows in this timepiece. This watch has a flower-like casing and an Akoya pearl in the bottom. Its white dial and purple strap can give sophistication to any lady who wears the watch.
Final Word
Have you taken a liking to any of the watches mentioned above? We hope that you have found this list helpful in deciding which Breguet watch to buy. With their vast collection, you will indeed find the perfect timepiece in this brand.