There is so much to see and do right along the scenic Costa del Sol in Andalusia, southern Spain that sometimes it can be difficult to decide just what to choose. There are, of course, the gorgeous beaches winding all the way down the coast and the many seaside resorts to choose from, but there is also a whole load of adventure and excitement available for the animal lover.
Can't afford to go on a safari holiday in Africa? You don't need to with these attractions available on the Costa del Sol! In fact, the first option on the list does actually give you the opportunity to go on safari!
Selwo Aventura – Estepona

Selwo Aventura panorama CC BY-NC 2.0 Rune https://www.flickr.com/photos/runekrem/
Situated just outside the traditional Spanish seaside town of Estepona, Selwo Aventura is great fun. Laid out in various separate territories, you can visit and photograph hundreds of different bird species, reptiles and some of the most famous animals from Asia and Africa, including elephants, giraffes, hippos and lions.
Jump into a jeep and enjoy the Serengeti Safari, take a camel ride or walk on the hanging bridges over the animals. For action enthusiasts, there is the Kuruka trampoline to bounce on, the Ziwa zipwire which allows you to slide down over the Great Lake of Africa or you can partake in archery lessons.
Bioparc Fuengirola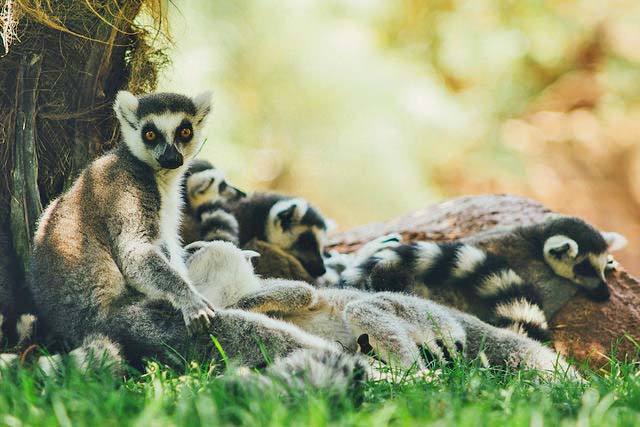 Bioparc Fuengirola lemurs CC BY 2.0 Leo Hidalgo  https://www.flickr.com/photos/ileohidalgo/
Moving down to the popular seaside resort of Fuengirola, Bioparc Fuengirola is a fascinating visit, hidden right in the heart of town. With realistic, spacious and leafy enclosures, many Asian and African animals can be seen including tigers, leopards, orangutans, gorillas, chimps and so much more.
Colourful birds can be visited in the aviaries and fish, turtles and other water creatures can be seen in the aquarium. You can even have an up front and personal visit with the lemurs of Madagascar or enjoy an interesting discussion or African dancing in the forest clearing.
Sea Life Benalmádena
Sea Life Benalmádena turtle CC BY 2.0 Manolo Gómez https://www.flickr.com/photos/verborrea/
Heading a little further along the coast, Sea Life Benalmádena offers an adventure with dolphins, sharks and more. There are feeding demonstrations throughout the day, with shark feeding on certain days of the week, and over 2,000 aquatic creatures to visit. For the children, the Rockpool Experience allows them to hold and touch crabs and starfish and the underwater tunnel gives a fascinating viewpoint on an under the sea experience.
Mount Calamorro Benalmádena
Mount Calamorro African Fish Eagle courtesy and copyright Anne Sewell
While in Benalmádena, head up by cable car to the peak of Mount Calamorro where you will experience not only stunning views along the Mediterranean coastline, but will also have the opportunity to visit various birds of prey, including eagles and falcons. At certain times of the day, demonstrations and talks about these predatory birds are on offer and the various mountain walks can be enjoyed too.
Crocodile Park Torremolinos
Crocodile Park courtesy and copyright Anne Sewell
For those who enjoy these scary looking reptiles, the Crocodile Park in Torremolinos is a much see experience. There are 300 crocodiles in the park and they offer guided tours, special shows relating to the crocodiles and even a baby crocodile nursery. You can even hold a baby crocodile and there is a mini zoo and play area on offer for the kids. Of special importance to visit is the biggest crocodile in Europe, who goes by the name of Big Daddy. He is, quite simply, huge!
Enjoy your trip to the Costa del Sol in southern Spain this year and don't forget to say "Hi" to the animals!