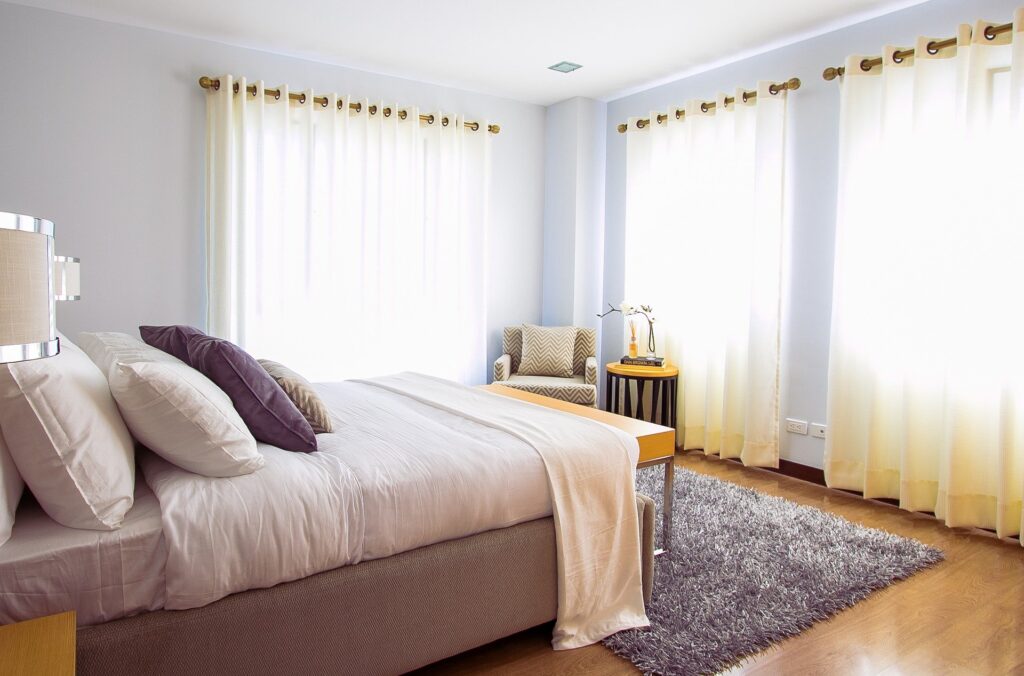 One of the most important rooms in the home deserves a makeover – this is how you make it calm and relaxing.
Having a bedroom where you thrive and sleep really well is important for health and really raises the quality of life. But if you are not completely satisfied, there are a lot of small changes that can make a big difference. Here we have collected a lot of tips on how to make your bedroom more harmonious.
1. Keep it dark
Sure, there are people who prefer to sleep in bright rooms, but we are programmed to sleep when it is dark – this is when the body produces melatonin, which helps us sleep. If you have a very bright bedroom, it may be worth investing in blackout curtains, which are available at Ikea, among other places, but otherwise ordinary fabric curtains may be enough. Feel free to choose a thick fabric, such as velvet, so that it is as dark as possible.
2. Choose the right lamps
Too bright lighting is one of the worst interior design mistakes you can make in the bedroom. Plan carefully and have several different light points in the room – above or next to the bed you probably want a fairly strong reading lamp, and if you have a ceiling lamp, it may be a good idea to choose one with a dimmer so that you can create mood lights. Make sure you have four or five light sources in the room; maybe you can add a lamp on the bedside table or in a shelf, then you can really adjust the lighting of the room depending on the season and mood.
3. Make sure the bedding is neutral
In an otherwise neutral room, you can opt for more colorful bedding, but too screaming colors and patterns risk making the room look messier and less relaxing. If you have difficulty sleeping, try investing in bedding in natural materials that allow the skin to breathe and see if it helps you on the way to a more comfortable sleeping experience.
4. Decorate with flowers – but be careful with the scents
Choosing flowers for the bedroom is an important part of the decor. Few things can elevate the atmosphere as much as a beautiful bouquet or stately houseplant. But remember to choose flowers that do not smell too strong! No matter how beautiful lilies, lilacs and hyacinths are, it is not worth decorating with them if you have difficulty with strong scents.
5. Give the bedroom its own expression
Paint the bedroom in a color that contrasts a little with the rest of the home, preferably a muted color that has a calming effect or you can also take ideas from the sleep shop. In this way, you give the bedroom a different atmosphere than the rest of the home, and know that it is bedtime when you are inside.
6. Think about the proportions
Are you going to buy a new bed? Congratulations! Feel free to choose one that is as large as possible, so that you have plenty of room to stretch out – but think about the proportions! Ideally, you should have space to be able to get out of bed on both sides. Do you have a small bedroom and want the focus to only be on sleep, it does not matter as much if the bed takes up the whole room…
7. Take away as much as possible
Storage, storage, storage – important in all rooms, but in the bedroom it is extra nice to be able to clean away properly. The fewer things that stand out here, the less distracting the surroundings are. Reward yourself with a good book, a nice scented candle or a bouquet to have on the bedside table when you have cleaned the bedroom properly.
8. Cheat with symmetry
The easiest way to make the bedroom look harmonious and well-planned is to choose a symmetrical interior. Two bedside tables with similar lamps, or lamps in the same style, are a super smart shortcut to a harmonious bedroom. Place the bed in the middle of the wall to easily create a hotel feeling! Can't fit two nightstands? Try putting up two paintings and two wall lamps above the main end of the double bed, and choose two or four pillows to wear underneath.
9. Fix color with accessories
That it's good to keep the bedroom somewhat toned down, in terms of color, of course does not mean that it should be all white (if you do not like it, of course.) Try to match the color of your bedding with the carpet, curtains or to and with the flower vase in the window.