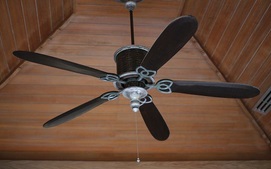 When you're doing home renovations, a ceiling fan can be a major upgrade to your space. Ceiling fans can go a long way towards making a space more comfortable. They're especially suitable for areas where you spend a lot of time, like bedrooms and living areas.
A ceiling fan can save you money on heating and cooling costs all year round. And with so many different fan designs available today, you can always find something you like. Choose a new ceiling fan for your home based on the size and style of the fan, and the features you need to make the most of your new fixture.
Get the Right Size Fan for Your Space
The most important part of choosing new ceiling fans for your home renovation is making sure the fans are sized properly for the space they'll be going in. Ceiling fans are measured in inches across the diameter of the blade sweep, or the circle created when the blades are in motion. If a fan has an even number of blades, the measurement is taken from one blade tip, across the middle of the fan, to the corresponding blade tip. If the fan has an odd number of blades, the measurement is taken from the tip of one fan blade, to the middle of the fan. This measurement is then doubled.
Fans come in sizes ranging from 29 inches across to 80 inches or more. The right size fan for your home renovation needs will depend on the size of the room where you're going to hang the fan. If the room is fewer than 75 square feet – for example, a bathroom, small kitchen, or mud room – you need a fan that is no bigger than 36 inches. If the room is 76 to 144 square feet, you need a fan that is 36 to 42 inches wide. If the room is 145 to 225 square feet, you need a fan 44 to 50 inches wide. If the room is 226 to 400 square feet,  you need a fan 50 to 54 inches wide. If your room is even larger than 400 feet, shop for ceiling fans in the largest sizes.
Choose a Fan Design that Matches Your Home
Choosing a fan design that's aesthetically pleasing and matches the rest of your home decor is one of the most challenging parts of buying a ceiling fan. The days of your grandparents' old rattan ceiling fans are long past, but that doesn't make choosing a new ceiling fan design any easier.
Part of the problem is that there are so many new ceiling fans to choose from. If your home has an industrial aesthetic, choose a dual ceiling fan, a small caged fan, or something with a many-bladed, steampunk look. If you're shopping for ceiling fans for your beach house renovation, look into tropical fan designs with large, leaflike blades. If you have more of a modern decorating aesthetic, choose a fan with clean lines and a minimal number of blades.
Get the Features You Need from a Ceiling Fan
A ceiling fan won't do you much good if it doesn't have the features you need. Today's ceiling fans are more loaded with features than ever. Choose a smart fan that you can control from your phone or tablet. Choose a fan with a remote control so that you don't have to reach for a pull chain every time you want to turn the fan on or adjust the airflow.
You need a fan with a powerful, quiet motor that moves at least 5,000 cubic feet per minute (CFM) of air. The higher the fan's CFM rating, the more powerful it is. Choose a fan with a DC motor – they're quieter, more powerful, and last longer than AC motors.
If you're going to hang your new ceiling fan in an area that gets humid or damp, like a kitchen or bathroom, make sure you get a damp-rated fan. If you're going to hang your new fan outdoors, you definitely need an outdoor-rated fan, even if the area is covered. If you live on the coast, a marine-rated fan will last longer than other outdoor-rated models.
Choosing a new ceiling fan for your home renovation can be intimidating, especially because there are so many fan styles available for homeowners to choose from. Buy a fan that looks good in your home and has all the features you need, so you can focus on how comfortable you feel instead of worrying about how your new fan looks or functions.