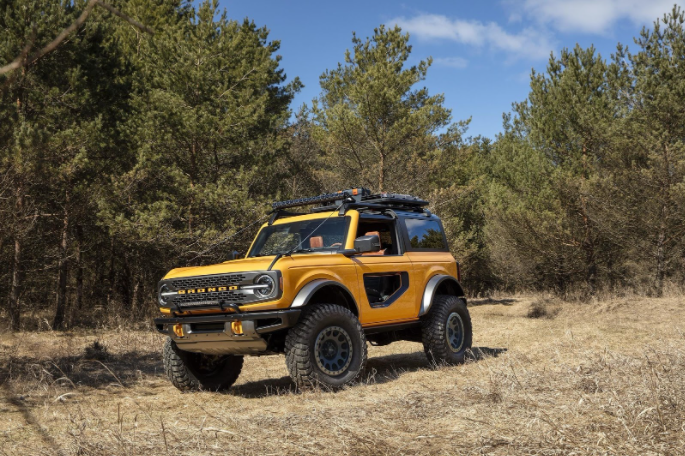 The Ford Bronco has long been an iconic symbol of adventure and active lifestyles. And even though Ford's return to the outdoor SUV market is delayed until summer, they've made sure to create a catalog of accessories that match your new Ford Bronco Sport to the adventures you choose.
Ford has put together a wide selection of lifestyle accessory bundles, making it easy to make your Bronco Sport truly your own before it even leaves the showroom floor.  Ford has listed several accessory packages on its website for the new Bronco, including a Cargo, Bike, Water, Snow and Camping bundle. Each package includes all-weather floor mats and roof-rack crossbars from Ford, along with appropriate accessories from Yakima, depending on your adventure. 
But Ford has also gone the extra mile with other accessories too, which includes a massive list of over 300 accessories from over a dozen manufacturers. The new Bronco isn't simply a highly capable off-road vehicle with amazing tech: It's a blank canvas for adventurers to customize and make into their own unique off-roading machine. 
For starters, there are at least four different flavors of wheel-arch extensions for buyers that want to put bigger, more off-road-ready tires on their rig. And of course, there are plenty of different styles of wheels and wheel locks to choose from. For the truly adventurous, there are aftermarket splash guards and trail armor to protect your Bronco's paint and body. There's also an option for a table that folds out of the swing gate, and of course, retractable soft top roofs for either your entire rig or just the front row. 
Aesthetically, there's no shortage of options to choose from when you buy 2021 Ford Bronco Sport parts. Retro pin striping, various rocker panels, new hood graphics, and the gorgeous tube doors round out the selection. There are even plenty of different options for the spare tire cover.
There are options packages Ford offers on the new Broncos that come with a plethora of different features. The first one, called Mid Package, adds dual-zone climate control, ambient footwell lighting, and a power outline behind the center console. It also adds in Ford's Sync 4 infotainment system, complete with voice recognition. The High Package takes what the Mid Package has and adds in a 12-inch touchscreen and a 360-degree camera, among other things. Lastly, the Lux Package adds in a 10-speaker Bang & Olufsen sound system, a heated steering wheel, adaptive cruise control, evasive steering assistance, and a three-year subscription to the navigation software.
It's clear that there are pretty much zero limits in how far you can go to make the new Ford Bronco truly your own with 2021 Bronco Sport accessories. The best news is that, with many of these accessories and accessory packages, Ford is allowing buyers to roll the costs into their vehicle loans, so you can roll your custom creation right out of the showroom ready to go. Which begs the question: Why would you ever get a base Bronco?